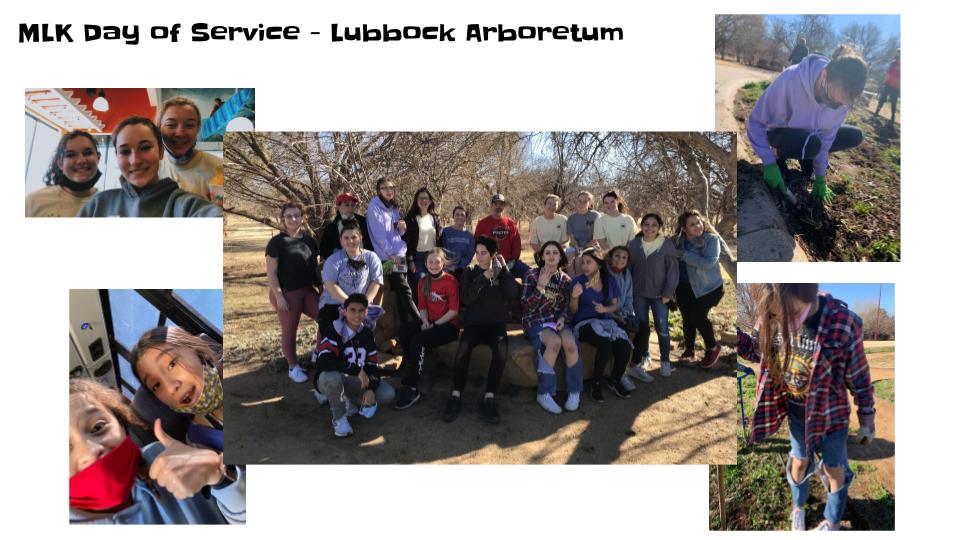 The purpose of the Volunteer Center of Lubbock's Youth in Service program is to encourage students to grow as leaders in their communities through service activities. Lubbock-Cooper High School students continue to prove they have what it takes to make the world a better place by participating in this program.  
As a YIS school, Lubbock-Cooper High School does incredible things in and outside of its hallways. The students have volunteered at a plethora of organizations in Lubbock and have made an impression at each service site. One of these organizations is the Lubbock Memorial Arboretum where students have volunteered at for the past couple of years. Liz Wagner, a volunteer at the Lubbock Memorial Arboretum, appreciates how "energetic, conscientious, and hardworking" the students are and hopes that they will keep "the Lubbock Memorial Arboretum as a service site" in the future. 
The Lubbock-Cooper High School students have offered tremendous support to the Arboretum, especially with their wildflower garden. The wildflower garden "had gotten out of hand, and no one person was really in charge of caring for it," said Liz. However, the Lubbock Cooper High School students were there to help. They got right to work to restore the wildflower garden to its former glory. From scraping and hoeing weeds to planting new plants, the students had a tough job ahead of them. "It was pure manual labor, and they graciously accepted and completed the challenge," said Liz.  
Clay Kennedy is the YIS sponsor for Lubbock-Cooper High School and loved how the students enjoyed getting their hands dirty. Clay believes that the opportunity also showed his students that "what [they] think is going to be a job that [will] be tedious and get [their] hands dirty, really ends up being so heartwarming." The students enjoy volunteering at the Arboretum so much that "it will be one of their first stops" from now on, said Clay. Watch an extended interview clip with Clay Kennedy on our Youtube channel at Raising Generational Leaders with Lubbock-Cooper High School Youth in Service 
No matter the challenge, the Lubbock-Cooper High School students always have a blast helping out their community. They have also worked with organizations like East Lubbock Art House and Lubbock Meals on Wheels.  
The Volunteer Center's YIS program works to instill values of service within schools throughout the South Plains. The participating schools receive funds to afford to do a variety of service projects. However, it is the dedication of the students that truly makes a difference, and they help make the YIS program what it is today. 
The Lubbock-Cooper High School Youth in Service students received this year's Youth Group 'Get Involved' award for all their hard work. The Volunteer Center of Lubbock loves to celebrate the spectacular volunteers we have in our community and the Lubbock-Cooper High School students make it worthwhile.