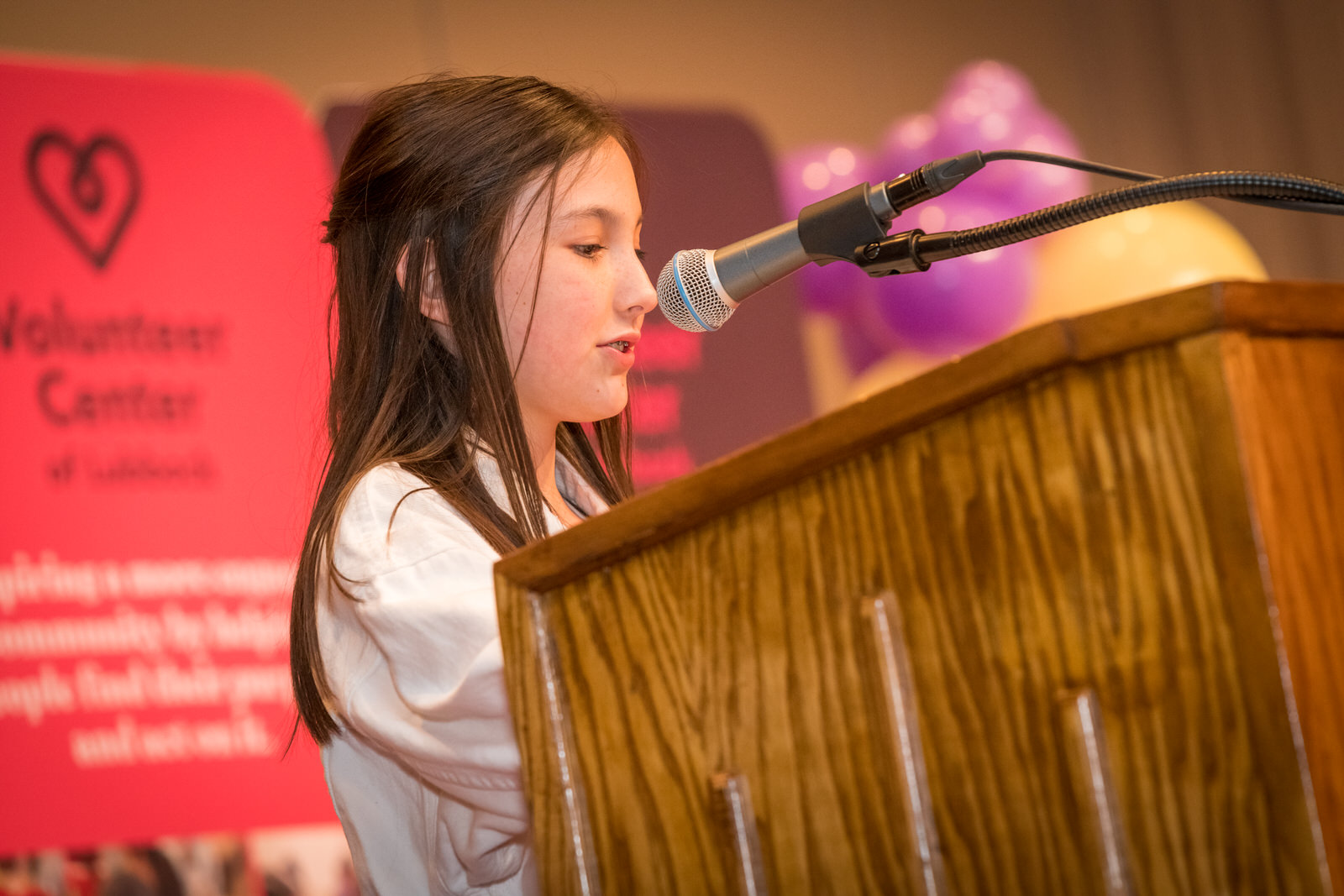 Connecting volunteers to meaningful service opportunities is the heartbeat behind so much of our work at the Volunteer Center. Creating engaging, fun volunteer opportunities that are accessible to even the youngest kids and families of all sizes, backgrounds, and abilities is essential as we inspire all people to act on their mission. We love partnering with local agencies to support our National Day of Services, From the Heart Summer volunteering, and year-round volunteering for the whole family!  
From the Heart is all about families learning to serve together. The Volunteer Center hosts a monthly project during the school year and weekly projects during the summer with various area nonprofits. Each project allows children as young as four to make a genuine impact. The goal is to instill the value of service at a young age.  
Ella McDonald is a sixth-grader at Lubbock Cooper Middle School who spoke at our annual Celebration of Service event that celebrates outstanding youth volunteering in our community. Ella shares, "Usually, I volunteer with friends, making it even more fun. Honestly, helping out with every charity brings me joy, and I love knowing that I am helping others that might not be as fortunate as me or need a little help." Ella participated in several of our From the Heart family volunteer projects this past year, including our most recent Day of Service project held at our new office location in Broadway Church of Christ. Volunteers made cards and bags for Meals on Wheels, dog toys for local animal shelters, and blankets for local homeless shelters. 
We have the opportunity to spotlight young volunteers at our annual Cornucopia Luncheon. Last year, we had many honorees who began volunteering together with their families at a young age. Growing up, both Sarah and David Cameron were raised in families who invested in helping others. Sarah and David continue that tradition with their grown children and extended families today. "Volunteering has been a part of our DNA since we were really young, and we have tried to instill that within our own family," said David Cameron. The couple believes it is essential to pass their values of volunteering down to their family and continue to instill the importance of giving back to younger generations. 
Our youth honoree, Jilpa Patel, also started volunteering with her family as a child and joined the Volunteer Center Youth Division service organization in high school. "My parents, at a very young age, instilled the love of volunteering with my brother and me. That came into play more in high school when I joined volunteer organizations. I was able to see lots of different partners and nonprofits in Lubbock and got to get a glimpse of the world outside of high school. I want to continue that growth through volunteering with the Volunteer Center and other nonprofits." Jilpa has seen the importance of her service but also sees how she has changed and grown personally. "Not only have I grown as a person, but I have also learned more about my surrounding community, and the difference volunteering can make!"  
We invite all caregivers looking to spend more time together serving this summer with kids to join us at From the Heart! We have activities all summer long, starting in June. You can find out more on our website at https://tinyurl.com/fromtheheart2022.