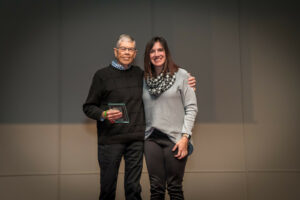 Tommy Tidwell has always made serving others a priority in life. From a young age, Tommy's parents instilled the value of service in him. From college to his career, and during retirement, Tommy has continuously gone the extra mile to help others in need.
In college, Tommy majored in fields that he knew would further his opportunities to serve others. With a major in psychology and interest in counseling, special education, and disabilities, he spent the next 40 years working in these areas. After retirement, volunteerism became his career. Tommy has been involved with a wide range of nonprofit organizations, in which he never fails to make an impact. Today, Tommy is a vital resource to Lubbock Meals on Wheels, the South Plains Food Bank, and Covenant Women's and Children's Hospitals.
Tommy stands out at each of these organizations for his positive attitude and uplifting spirit. "Every time I walk past his group, he is always laughing, joking, and bringing such positive influence to those around him…We all love working with Tommy here at the Food Bank and look forward to seeing him as often as he is able to come," said Natalia Serna, the Volunteer Manager at the South Plain Food Bank. Even while hard at work, Tommy is always in the best mood. Not only stand out for his attitude, his dedication is also inspiring. "Tommy is totally devoted to investing his free energy and time helping others. He is an entirely mindful volunteer and he has been an enormous resource for our association," said Sharon Parks, the Volunteer Services Coordinator at Covenant Health. He volunteers at the Women's and Children's Hospital to help greet and direct patients.
Tommy truly has a volunteer spirit, which is seen as he volunteers with three different routes with Lubbock Meals on Wheels. Marissa Crawley, a Volunteer Assistant at Lubbock Meals on Wheels, said that one of the routes, "is out of city limits and is not a route that a lot of people want to take, because it is out of the way and takes a bit longer than most. Tommy does not see this as a challenge, but as an adventure."
Tommy puts in the extra effort to become their friends. One woman, in particular, was extremely lucky that Tommy was on her route. When he arrived to deliver the food for his first delivery, he knocked on the door and was asked to come in. When he entered, he saw some of the unhealthy living conditions and he knew he needed to help. Tommy started helping by doing extra chores and running a few errands. He then got other family members and friends involved to help support her. Tommy got to know the woman and her story. After a while, the woman trusted him enough to take his advice and move into a nursing home. At the retirement home, "she [became] a new lady. She had a sparkle in her eyes. She had on nice, clean clothes. She had…begun writing poetry… and she had made friends," said Tommy.
Tommy Tidwell is an outstanding volunteer and kind-hearted person. He consistently goes out of his way to make the lives of others better. It is for this reason that Tommy is a recipient of the 2021 Adult Individual "Get involved" Award. The Volunteer Center of Lubbock loves to commend individuals who volunteer their time to better our community, taking time to Celebrate the Good in our community.